Yum! Brands is the world's largest restaurant company in terms of system restaurants, with more than 38,000 restaurants globally in over 120 countries and territories and more than 1 million associates.
Yum! Is ranked #213 on the Fortune 500 List and generated more than $12 billion in revenue in 2011. Yum's restaurant brands – KFC, Pizza Hut, and Taco Bell – are the global leaders of the chicken, pizza, and Mexican-style food categories.

Focused on US operations, the Yum! Brands WebSphere Portal and IBM Web Content Manager solution delivers highly personalized and secured content and applications to both corporate and franchise restaurants and employees. In addition, Yum! Brands can offer a "onestop shop" of services to franchisees and business partners by targeting regions with localized communications, development, and training.

Join us to hear about the business drivers, user experience, implementation details, lessons learned, and Yum! Brands vision for future platform enhancements and services.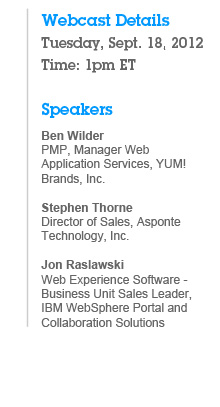 ---
If you'd like IBM to refrain from sending you similar marketing e-mails send an e-mail to netsupp@us.ibm.com, IBM Corporation, 777 East Wisconsin Avenue, 31st Fl, Milwaukee, WI 53202

This information is provided "as is" without warranty of any kind, express or implied, and is based on current IBM product plans and strategy, which are subject to change by IBM without notice. IBM shall not be responsible for any damages arising out of the use of, or otherwise related to, this document. Nothing contained in this document is intended to, nor shall have the effect of, creating any warranties or representations from IBM (or its suppliers or licensors), or altering the terms and conditions of the applicable license agreement governing the use of IBM software.

IBM, the IBM logo, ibm.com, Smarter Planet and the planet icon are trademarks of International Business Machines Corporation, registered in many jurisdictions worldwide. Other product and service names might be trademarks of IBM or other companies. A current list of IBM trademarks is available on the Web at http://www.ibm.com/legal/copytrade.shtm.